The FineStationery Difference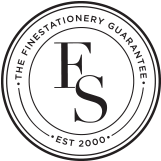 The FineStationery Guarantee
At FineStationery, we are committed to exceeding your expectations and we stand behind our products and service with The FineStationery Guarantee. If for any reason you are not happy with your order, simply contact us so we can address your concern.
DEDICATED CUSTOMER SERVICE
Every customer is assigned an experienced personal wedding or stationery consultant at no additional charge to guide and advise on any questions before, during, and after every order. Each consultant personally reviews a customer's order for quality and completion.
RETURN AND CANCELLATION POLICY
If you decide to cancel your order after it is processed and sent to be printed you may incur a cancellation fee which will vary by vendor.
Unfortunately, customized orders cannot be returned for a refund due to the nature of the product. If you have made a mistake in the text or customization, we will work with you to correct the mistake quickly and reprint your order at a 25% discount. We strongly recommend purchasing a digital proof on items with lengthy or complicated text.
Orders that do not include customization can be returned within 30 days of delivery for a merchandise refund. Shipping charges will not be refunded.
If you received an item that is damaged, incorrect or missing parts: Please contact [email protected] to report the issue right away for review. Any problems must be reported within 30 days of delivery. Please keep damaged packaging and products, as photos will be required for replacement.
Include the following information in your email:
Order number
Description of the problem
Clear photos showing the problem